Alexander Graham Bell, nicknamed Alexander Goofy Bell was a male anthropomorphic dog.
Description
Edit
Alexander "Goofy" Bell, a lookalike and quite possibly a distant relative of Goofy, was originally a produce merchant in Boston. In 1876, he attempted to create an automatic vegetable-canning machine to allow him to send fresh produce to his cousin. The prototype malfunctioned, and, stuck in the cogs of the humongous device, Bell managed to contact his associate Mr Watson (in the next room) to call for help by talking into one of the tin cans which had gotten jammed into the wires of the mechanism. This accident led to his invention of the telephone.
Behind the scenes
Edit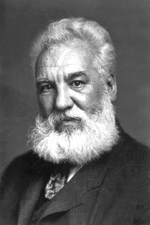 Alexander Graham Bell was mentioned in the 1952
Carl Barks
story
Ray's A Riot
, later appearing in the flesh, as a "historical
Goofy
counterpart" in
The Story of Alexander Goofy Bell
.
Community content is available under
CC-BY-SA
unless otherwise noted.