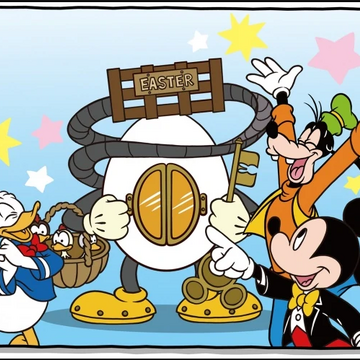 Birth of the Usatama is an unofficial title for an illustrated story. It features Mickey Mouse, Minnie Mouse, Donald Duck, Goofy, and, in their debut, the Usatama.
Description
While preparing for Easter, Mickey and friends receive a mysterious machine which, when powered on, begins to generate mysterious egg-rabbit beings - the Usatama, who quickly begin causing chaos.
Behind the scenes
Birth of the Usatama was released in April of 2016, presumably as part of a pamphlet given to guests at Tokyo Disneyland. It was intended to explain the backstory of the park's Easter event. The story was later re-released on the official Tokyo Disneyland website.