Line 1:
Line 1:
 
+

{{Merging}}

 
+
 

Chief Gu is an abominable snowman who stole [[Crown of Genghis Khan|The Lost Crown of Genghis Khan]] from one of Scrooge McDuck's caravans. Scrooge and his nephews recover the Crown. In Rightful Owners Scrooge tries to give the Crown back to Gu but he returns it to him.

 

Chief Gu is an abominable snowman who stole [[Crown of Genghis Khan|The Lost Crown of Genghis Khan]] from one of Scrooge McDuck's caravans. Scrooge and his nephews recover the Crown. In Rightful Owners Scrooge tries to give the Crown back to Gu but he returns it to him.

 

[[Category:Characters]]

 

[[Category:Characters]]

 

[[Category:Monsters]]

 

[[Category:Monsters]]

−

[[Category:A to Z]]

 
 

[[Category:Mythical Creatures]]

 

[[Category:Mythical Creatures]]

 

[[Category:Males]]

 

[[Category:Males]]
---
Latest revision as of 22:20, 10 September 2019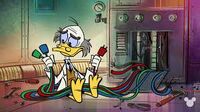 "Oh, dear!"
Due to the recent Wiki Merging, this page has been imported from another wiki, and thus may not be up to the Scrooge McDuck Wiki standards. Your help in fixing it would be appreciated.
Chief Gu is an abominable snowman who stole The Lost Crown of Genghis Khan from one of Scrooge McDuck's caravans. Scrooge and his nephews recover the Crown. In Rightful Owners Scrooge tries to give the Crown back to Gu but he returns it to him.
Community content is available under
CC-BY-SA
unless otherwise noted.