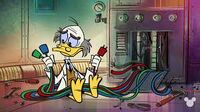 "Oh, dear!"
Due to the recent Wiki Merging, this page has been imported from another wiki, and thus may not be up to the Scrooge McDuck Wiki standards. Your help in fixing it would be appreciated.
The Chip 'n Dale Rescue Rangers comic book published by Disney Comics is the first of two different comic book series based on the animated television series of the same name. It was one of the company's eight initial titles and ran for nineteen issues from the company's launch in April 1990 to October 1991.
Like the DuckTales comic that ran alongside it, the Rescue Rangers comic regularly ran multi-part stories that would span over at least two issues. The first two issues were a condensed comic adaptation of the show's 5-part "origin episode", "To the Rescue", and issue #3 (which was the first part of a 4-issue arc) was loosely based on the episode "Piratsy Under the Seas".
Issues #7 and #14 were issues that took breaks from the regular content of the book. the seventh issue presented three stories intended for overseas comic distribution, presented as flashbacks the Rangers have during the time between issues #6 and #8, while the fourteenth issue contained English translations of three stories originally printed in Le Journal de Mickey.
Due to the Disney Comics Implosion, the Chip 'n Dale Rescue Rangers title was cancelled in November 1991, and as a result, the 20th issue, mentioned on the letters page of the final published issue, never saw print. Disney would publish several new Rescue Rangers comic stories in Disney Adventures from then through September 1994, but the story planned for issue #20 was never printed.
Community content is available under
CC-BY-SA
unless otherwise noted.