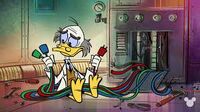 "Oh, dear!"
Due to the recent Wiki Merging, this page has been imported from another wiki, and thus may not be up to the Scrooge McDuck Wiki standards. Your help in fixing it would be appreciated.
Chip 'n Dale Rescue Rangers: Kellogg's was a cereal promotion which existed in 1991.
Promotion
Figures of the main Rescue Rangers (minus Zipper) were included free in boxes of Frosted Flakes cereal, accompanied by a commercial showing the Rangers crash landing in a kitchen, only to be trapped under a teacup by a young girl.
See also
The commercial (showing the figures as well): https://youtu.be/zY2PAMtP6ic?t=19s.