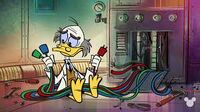 "Oh, dear!"
Due to the recent Wiki Merging, this page has been imported from another wiki, and thus may not be up to the Scrooge McDuck Wiki standards. Your help in fixing it would be appreciated.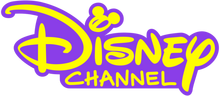 Disney Channel is a US basic cable and satellite television network, owned by the Disney-ABC Television Group division of The Walt Disney Company. It is under the direction of Disney-ABC Television Group President Ben Sherwood. The channel's headquarters is located on West Alameda Ave. in Burbank, California. Disney Channel International Networks, currently run by President Carolina Lightcap, is a global portfolio of more than 90 kid-driven, family inclusive entertainment channels and/or channel feeds available in over 160 countries and 30 languages. The platform brands are Disney Channel, Disney XD, Disney Junior, Disney Cinemagic, Hungama TV and Radio Disney.
The channel specializes in television programming for children through original children's television series and movies, as well as third-party programming. It is marketed mostly toward young children, with the exception of their weekend prime-time block that is aimed at both children and pre-teens ages 7-12 year olds, and the Disney Junior programming block aimed at little kids ages 3–6 year olds. In recent years, the diversity of viewers has increased with an older audience, typically teenagers, young adults and young families.
Since November 19, 2010, the channel is offered with an alternate Spanish-language audio feed, either via a separate channel as part of a Spanish-language network package sold by cable and satellite providers or via a separate audio track with the SAP option, depending on the TV provider.
On May 1, 2018, DuckTales moved from Disney XD, to Disney Channel. During the month of May 2018, a episode of DuckTales was on every day, including four new episodes (The Spear of Selene!, Beware the B.U.D.D.Y. System!, The Missing Links of Moorshire!, McMystery at McDuck McManor!).
Community content is available under
CC-BY-SA
unless otherwise noted.