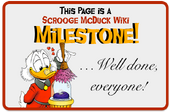 When this page was created
on May the 12th, 2020,
we are proud to say that it was
the $crooge McDuck Wiki's
5000th Page!
Don Donald is an animated cartoon short, officially part of the Mickey Mouse series but widely acknowledged as the first episode of the Donald Duck spin-off. Written by Webb Smith, Otto Englander and Merrill De Maris, it was directed by Ben Sharpsteen and features Donald Duck as well as the debuts of Donna Duck, of Donald's Burro, and, notably, of the 313.
Plot
In Mexico, Donald Duck has begun wooing Donna Duck. Everything is going well with Donald's old-fashioned sombrero-wearing serenade-playing approach to romance, until Donald forgets himself and laughs uproariously at a blunder of Donna's. Trying to save the situation, Donald trades his burro for a fancy new car — but as usual, the attempt to win Donna back doesn't go as planned!
References
Donna Duck and Donald Duck appear to have been dating for some time, as Donna has a canvas portrait of the two of them in her room (which he tears apart in anger after the breakup).
Donald buys the 313 fully-built, trading

his burro

for it. However, it breaks down at the end of the story.
Continuity
Like many other cartoons of the period, Don Donald received an illustrated one-page story "adaption",

Don Donald

(1937), which came out in the pages of the Good Housekeeping magazine the same month as the cartoon itself. However, that Don Donald's events did not match those of the cartoons, instead seemingly taking place at an earlier point in Donald and Donna's courtship and ending with them still together with no 313 in sight.
Despite this story showing Donald acquiring the 313 fully-formed,

Volcano Valley

(1949) and

Recalled Wreck

(1987) both claim that he instead built it himself from spare parts and that it is a unique model.
The Italian story

Donald Duck and the Secret of the 313

(1995, INDUCKS), meanwhile, reframes the events of Don Donald as

purely an in-universe film

in which Donald starred with Daisy — which itself conflicts with accounts of Donna and Daisy as real people who once met one another — but also states that Donald actually bought the 313 during the shooting of the film.
Without going into the matter of whether it depicts true events, the frame story of the package film release

Donald's Greatest Hits

(1998) also refers to Don Donald as existing in-universe as a cartoon in which Donald had a starring role.
Behind the scenes
Don Donald was released theatrically on January the 9th, 1937. It was written by Webb Smith, Otto Englander, and Merrill De Maris, directed by Ben Sharpsteen, and animated by Fred Spencer, Dick Huemer, Al Eugster, Johnny Cannon, Milt Schaffer, Jack Hannah, and Ugo D'Orsi. It stars Clarence Nash as both Donald Duck and his love interest, Donna Duck. Its score, composed by Paul J. Smith, contains variations on two Mexican folk songs, "Cielito Lindo" and "Jarabe Tapatío".
Although, from an in-universe perspective, Donna Duck and Daisy Duck are well-established as two different characters (except in stories which deny that the events of Don Donald are canonical at all), from a real-world perspective, it is well-understood that the cartoon marked the first appearance of the fictional character who developed into Daisy with her reappearance in Mr Duck Steps Out.