Donald Duck and the Buried Treasure is an illustrated text story. It features Donald Duck, Huey, Dewey, and Louie, and Peg-Leg Pete.
Description
Edit
When Donald and his nephews buy a treasure map from Peg-Leg Pete's shop in a small waterfront village, they soon find that it is a phony, and the same map that he sells all of his customers. But as they begin to set sail away from the island, they find that a real chest of pirate gold has become hooked on their anchor. As they carry it through the village, Donald decides to get revenge on Pete, and thanks him for the map while handing him a gold doubloon. Pete, now convinced that the map is real, rushes off to do some treasure hunting of his own.
Behind the scenes
Edit
Donald Duck and the Buried Treasure was originally released as part of the Mickey and Minnie Storybook Collection in 2015.
Donald's 313 appears in the story, and, interestingly, does so with its European color scheme (blue body) rather than its more common American one (wholly red). This color scheme is used several other times in other stories throughout the book.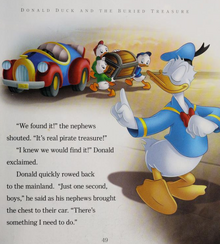 Community content is available under
CC-BY-SA
unless otherwise noted.