Downy O'Drake, who became Downy McDuck, was a female anthropomorphic duck.
Description
The daughter of Irish immigrant to Scotland Duckson O'Drake, Downy married a relatively wealthy man and was soon widowed. She remarried, choosing poor Fergus McDuck. Gentle and caring (although as stingy as all the other McDucks), Downy had several children, including Scrooge McDuck, Hortense McDuck, Matilda McDuck, Gideon McDuck and Marley McDuck, before dying of illness in 1897. Downy is the maternal grandmother of Donald Duck and Della Duck, the mother-in-law of Quackmore Duck, the grandmother-in-law of Della's unnamed husband, and the maternal great-grandmother of Huey, Dewey and Louie Duck.
Behind the scenes
She first appeared in 1977 in Zio Paperone e l'oro del Klondike, though a 1968 comic strip had already mentioned a rather different version of Scrooge's mother as "a rich widow".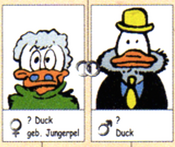 Prior to either, The Old Castle's Secret featured two portraits in Scrooge McDuck's house, which, although originally unlabelled, were later identified by Johannes A. Grote's Duck Family Tree as Scrooge's parents, and, indeed, do resemble Fergus and Downy as shown in DuckTales and in Don Rosa's works.
Voice Actresses