Jurassic World: Dominion Dominates Fandom Wikis - The Loop
Play Sound
DuckTales (not to be confused with the 2017 reboot of DuckTales) is a 1987 TV show based off of the Uncle Scrooge comic books, mostly those crafted by Scrooge's creator, Carl Barks.
List of episodes
See main article: List of DuckTales episodes
Plot
Donald Duck is hired by the U.S. Navy, and has to let Huey, Dewey and Louie in his rich uncle Scrooge McDuck's care. Scrooge, to take better care of his three grandnephews, permanently moves to his holiday mansion in Duckburg's countryside and hires nurse Madam Beakley to take care of the three ducklings. Along with clumsy airplane-pilot Launchpad McQuack and Mrs Beakley's granddaughter Webby, Scrooge and the ducklings go on daring adventures and treasure quests all around the world, much like in the original comics, and have to foil a brand new set of villainous Beagle Boys.
Characters
Production
Origins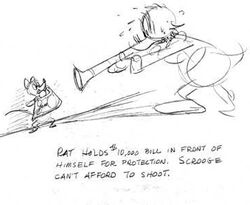 As early as 1954, there had been plans to do a spin-off of Donald Duck's own cartoon series that would feature the then newly created Scrooge McDuck, whose popularity in the comic medium was at its finest. Carl Barks himself was asked to storyboard the seven-minutes pilot that would feature Scroogre trying to get rid of a banknote-eating rat (see on the right). The short, however, was never made, and Scroog McDuck's film career effectively debuted 13 years later with Scrooge McDuck and Money, a featurette that was part of the same educative series as the much-praised Donald in Mathmagicland and Donald and the Wheel. Contrary to its two spiritual predecessors, Scrooge McDuck and Money did not feature Donald, instead focusing on Scrooge and Huey, Dewey and Louie alone, which clearly foreshadows DuckTales. Scrooge McDuck and Money was, however, a financial failure and had no more follow-ups.
In 1984, the main Walt Disney Studios produced another featurette that was officially part of the Mickey Mouse series, Mickey's Christmas Carol. In this new adaptation of Charles Dickens's well-known christmas tale, classic Disney characters were assigned roles in the story (Mickey being Bob Cratchitt, Mr Fezziwig being Mr Toad, the Ghost of Christmas Yet To Come Peg-Leg Pete…). Naturally, Scrooge was chosen to play the part of Ebenezer Scrooge himself, in a slightly altered design. Although the movie had to much to do with DuckTales in itself, it caused a regain of popularity toward Scrooge, leading to the creation of Soccermania.
Production for Soccermania began shortly after Mickey's Christmas Carol came out, thanks to Christmas Carol's enormos success at the box office. It was decided that contrary to Christmas Carol, Soccermania would be a direct follow-up to the Carl Barks comics, instead of a reimagining. It marked the first animated appearance of aspects of the comics as numerous as Scrooge himself in his classic design, the Beagle Boys, Gyro Gearloose, the Money Bin, Scrooge swimming in his money, or even Duckburg itself ! Much like Scrooge McDuck and Money and, later, DuckTales, Soccermania features Scrooge, Huey, Dewey and Louie but not Donald Duck. For that reason, Soccermania almost feels like a standard DuckTales episode, if it wasn't for the presence of Sport Goofy as a supporting character and the superior-quality animation. 
Pilot
As usual for TV series, DuckTales began with a feature-length pilot, The Treasure of the Golden Suns, introducing most of the show's new characters (Launchpad McQuack, Webby Vanderquack, Duckworth and the show's Beagle Boys), as well as providing the first animated appearance of Flintheart Glomgold and the second of Gyro Gearloose. It was first aired as a feature-length movie in September of 1987, before being split into the show's first 5 episodes for re-airings. The Treasure of the Golden Suns contains the show's explanation for Donald being missing, but still gives him a decent amount of screen time. Although it is not adapted from one specific Barks comic, the stories's segments draws inspiration from numerous comics: El Capitan is inspired by Khan Khan, and the lost treasure is reminscent of The Seven Cities of Cibola, as many fans have noted.
Songs
Critical reception
Positive reception
DuckTales is widely understood as aiming at a younger audience than its source material. Taken as a kid show, it had a very positive reception, standing out as one of Disney's most popular TV shows of the eighties and nineties, and it is considered one of the series that launched the rebirth of Disney's TV animation, leading to the making of other series such as Chip'n'Dale Rescue Rangers, TaleSpin, Aladdin — The Series or Bonkers.
Negative reception
Many long-time fans of the original comics, however, tended to dislike the show, finding it disrespectful to the original comics. The cheap animation, when compared to Disney's animated features, has also been much criticized; the choice of the voice acting for the characters is also contested, especially when it comes to Scrooge. DuckTales has also received criticism from its exclusion of Donald Duck, a common fixture of the stories by Carl Barks that some of DuckTales's episodes were based on.