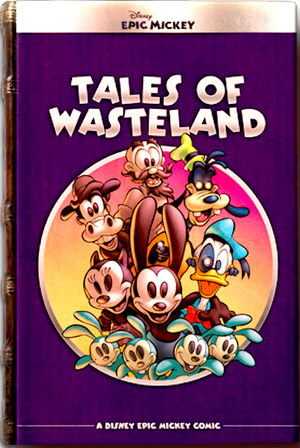 Epic Mickey: Tales of Wasteland
, or simply
Tales of Wasteland
, was a comic series, part of the
Epic Mickey
franchise. Its six episodes were written by
Peter David
and drawn by
Claudio Sciarrone
.
Description
Edit
The Tales of Wasteland take place shortly prior to the events of the Blot Wars, serving as a distant prequel to Epic Mickey. With the Mad Doctor still nominally on the side of good and the Blot not yet existent, the stories mostly focused on the adventures of Oswald Rabbit, Animatronic Donald and Animatronic Goofy, as well as Oswald's occasional efforts to be remembered and thereby escape Wasteland be returned to the Prime Universe.
List of Episodes
Edit
Behind the scenes
Edit
The series was released in 2010 on the Epic Mickey iOS app to promote the release of the Epic Mickey video game, alongside Epic Mickey: The Graphic Novel, which is sometimes construed as Episode 7 of the Tales of Wasteland. The stories later saw print releases in regular Disney comic books in other countries.
Community content is available under
CC-BY-SA
unless otherwise noted.