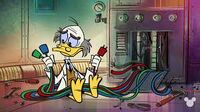 "Oh, dear!"
Due to the recent Wiki Merging, this page has been imported from another wiki, and thus may not be up to the Scrooge McDuck Wiki standards. Your help in fixing it would be appreciated.

Foxglove is a semi-anthropomorphic bat and an ally of the Rangers. She has a crush on Dale.
Description
Edit
Foxglove was one of Winifred's helpers, alongside Bud and Lou, before she became acquainted with the Rescue Rangers, who gave her the nickname Foxy.
Foxglove is far from being shy. Having spent almost all her life without any friends, she can't help making them rather quickly. For this reason, she became friends with the Rangers before they even knew it, and she didn't attempt the slightest bit to hide her strong feelings for Dale whose life she once saved.
For a little bat that she is, Foxglove is astonishingly courageous. She doesn't mind catching a rapidly falling chipmunk in mid-air, she even does her best to support the Ranger Wing and keep it from crashing, and most of all, she does not fear Winifred, the wannabe witch.
According to her own words, Foxglove had no friends until she met Winifred whom she helped on her attempts to become a witch. When these criminal actions of Winifred's turned into a case for the Rangers, Foxglove realized that she was working for the evil, and she joined the Rangers on their successful struggle against Winifred.
Behind the scenes
Edit
Foxglove first appeared in the episode Good Times, Bat Times.
Community content is available under
CC-BY-SA
unless otherwise noted.