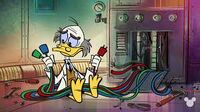 "Oh, dear!"
Due to the recent Wiki Merging, this page has been imported from another wiki, and thus may not be up to the Scrooge McDuck Wiki standards. Your help in fixing it would be appreciated.
In the Comics
Edit
In 1118, nine French nobles founded a monastic and military order to protect travelers going to the Holy Land during the Crusades. They gathered in Jerusalem in the ruins of the Temple of Solomon, where they became known as the Knights Templar. The order became an independent army of 20,000 knights and had the largest fleet in the world. Its wealth and power equaled those of some medieval nations.
The radiance of the order lasted 200 years until October 13, 1307, when King Philip the Fair of France who owed ​​them money ordered the confiscation of their treasure that was then in Paris.
In the 20th century the French Riviera was well-known for being a meeting place of spies.
Known Locations in France
Edit
In the actual world
Edit

The French Fourth Republic was the republican government of France between 1946 and 1958, governed by the fourth republican constitution. It was in many ways a revival of the Third Republic, which was in place before World War II, and suffered many of the same problems. France adopted the constitution of the Fourth Republic on 13 October 1946.
The Fourth Republic saw an era of great economic growth in France and the rebuilding of the nation's social institutions and industry after the war, and played an important part in the development of the process of European integration which changed the continent permanently. The greatest accomplishments of the Fourth Republic were in social reform and economic development. In 1946, the government established a comprehensive social security system that assured unemployment insurance, disability and old-age pensions, and medical care to all citizens.
Some attempts were also made to strengthen the executive branch of government to prevent the unstable situation that had existed before the war, but the instability remained and the Fourth Republic saw frequent changes in government – there were 20 governments in ten years. Additionally, the government proved unable to make effective decisions regarding decolonization. As a result, the Fourth Republic collapsed and what some critics considered to be a de facto coup d'état, subsequently legitimized by a referendum on 5 October 1958, led to the establishment of the Fifth Republic in 1959.
Community content is available under
CC-BY-SA
unless otherwise noted.