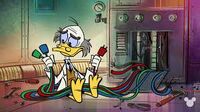 "Oh, dear!"
Due to the recent Wiki Merging, this page has been imported from another wiki, and thus may not be up to the Scrooge McDuck Wiki standards. Your help in fixing it would be appreciated.
Gene the Genie is a young genie. He was stuck in a magic lamp until Scrooge McDuck set him free.
Behind the Scenes
He first appeared in Treasure of the Lost Lamp. He more recently appeared in Dangerous Currency as one of the citizens who fights back the slime.
Voice Actors
See also