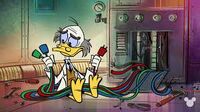 "Oh, dear!"
Due to the recent Wiki Merging, this page has been imported from another wiki, and thus may not be up to the Scrooge McDuck Wiki standards. Your help in fixing it would be appreciated.
Heavy hangs the head
Issue Information
Issue
3
Published
Wednesday, July 27, 2011
Written by
Warren Spector
Artists
Jose Massaroli & Magic Eye Studios
Comic Guide
Previous
Next
Heavy Hangs the Head or Rightful Owners Part 3 is the third issue of the Ducktales comic series published by Kaboom (Studios). It features Scrooge McDuck,Huey Louie and Dewey Duck, Webby Vanderquack, Launchpad McQuack, Daisy Duck, Farquardt, King Fulla Cola, John D. Rockerduck, Gladstone Gander, The Beagle Boys, Camille Chameleon, and Cinnamon Teal.
Summary
DuckTales Is Back! The hit Disney Afternoon TV show continues to make a splash as an all-new, original ongoing comic book series! Written by the creator of the Epic Mickey video game, Warren Spector! Scrooge McDuck, Launchpad, and the gang continue their search for the McDuck Museum artifacts that have been mysteriously deported to their original locations! Who is behind the dastardly deportation? Does Donald Duck have the answer? Find out as the man who brought you Epic Mickey spins an original epic DuckTales series!
Story
Gallery
Covers