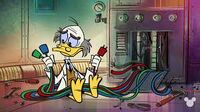 "Oh, dear!"
Due to the recent Wiki Merging, this page has been imported from another wiki, and thus may not be up to the Scrooge McDuck Wiki standards. Your help in fixing it would be appreciated.
Hilarius Goosesson was a character featured in DuckTales. An ancient viking from a day long ago, he somehow got lost in the deserts of the United States of America and eventually founded a village of Vikings in Doom Valley.
Biography
Edit
A well respected and revered leader, Hilarius Goosesson lead his band of vikings throughout the desert of Doom Valley. Despite his horrible directions, his men honored his word enough to follow behind him. At some point, Hilarius Goosesson passed away but not before having children. Many generations later, his descendant Hilda Goosesson carried on his legacy, either as the leader of the viking tribe, or as the most respected member.
Appearances
Edit
Comics (8%)
Edit
Community content is available under
CC-BY-SA
unless otherwise noted.