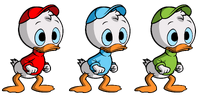 You might be looking for another page with a similar name. If so, visit Horace (disambiguation).
Horace Horsecollar, also known (mistakenly) as Horace Horse, is a male anthropomorphic horse.
Description
A friend of Mickey Mouse, Horace Horsecollar is Clarabelle Cow's beau and a relentless practical joker (who sometimes doesn't know when to quit). Horace lives in Mouseton and has worked in numerous jobs, from helping Mickey Mouse plough a field to running for mayor. As of late, his most frequent occupation seems to be a mechanic.
Behind the scenes
Horace first appeared in 1929 in The Plowboy. In his earliest appearances, Horace blurred the lines between anthropomorphic and animalistic, as he was sometimes walking on all fours while pulling a plough for Mickey.
Voice Actors