Jurassic World: Dominion Dominates Fandom Wikis - The Loop
Play Sound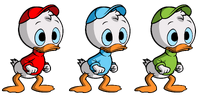 You might be looking for another page with a similar name. If so, visit Horace (disambiguation).
Horace Fusslebottom, better known as Horace the Caretaker, or simply the Caretaker, and also known as Dick O'Dell and Silas Crump, is a human man.
Description
The perpetually-terrified Caretaker of the Haunted Mansion, Horace only bears the frights inherent in the job for the sake of his late wife, whose ghost also resides in the Mansion and whom he consequently gets the chance to have tea with every night. Horace is rarely seen without his equally-scaredy dog Bones.
Behind the scenes
The Caretaker is one of the main characters in Disneyland's ride The Haunted Mansion and its various remakes, and the only living human aside from the costumed Cast Members who act as Maids and Butlers. He is, interestingly, one of the few Park characters to have aged with the ride: he was middle-aged, with red hair, when the Mansion first opened, but eventually switched to white hair and no beard.
The first known name for the character was "Dick O'Dell", employed in the Ghost Gallery mythos. He was then renamed "Horace Fusslebottom" by some of the mid-2000's comics. Yet a third name was intorduced in the attraction itself when a crate addressed to "the Gracey Manor caretaker Silas Crump" was added as outdoor theming by the entrance.