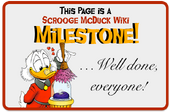 When this page was created
on August the 14th, 2018,
we are proud to say that it was
the $crooge McDuck Wiki's
2000th Page!
Joe Torcivia is an American translator-dialoguist, Disney comics scholar, and blogger.
Biography
Joe Torcivia received his first comic book at the age of four and never looked back! ("…Not", he notes, "that, at age four, there's so much to 'look back' on!".) Although he couldn't read at the time, thanks to a steady diet of comic books, courtesy of his "Grandma Millie", he was reading quite proficiently before entering kindergarten.
Though he had amassed a scattered accumulation of comic books prior to this point, it was one very special comic - and its villain, the Phantom Blot – that moved him from casual reader into "never-miss-an-issue" mode, and served to concentrate his collecting focus more tightly on Disney comics and other titles published by Gold Key. DC Comics would also penetrate that collecting focus with the advent of the 1966 Batman television show, starting with Batman #179.
As time passed, Joe further demonstrated his love for the comics medium with fanzine writing, and becoming a prolific writer of "Comic Book Letters of Comment" – with more than 300 seeing print, over various publishers. Letterhacking lead to a first-published-credit as provider of the text for an issue of the Disney Comics Album.
His association with friend and comic book editor extraordinaire David Gerstein led to his receiving "Translation and Dialogue" work on Disney comic books published by Gemstone, Boom! Studios, and IDW – with additional translation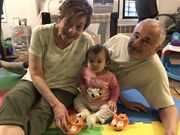 efforts, as well as numerous text pieces, for Fantagraphics' Disney line. His lively localization work, rich in wordplay and Vic Lockman-esque alliteration, has been at the root of several enduring Disney comics concepts that are accepted as canon on the wiki, such as the existence of Goat-Ham City.
Torcivia also maintains a Blog, Joe Torcivia's The Issue At Hand, which, for over ten years, has stood as a lively – and respectful – place for the discussion of comic books and other things of related interest. And, although comic books have been a constant in his life, he insists that they are a decided second to his love for his wife Esther and his granddaughter Averi!
Trivia
Due to his online presence through Joe Torcivia's The Issue At Hand as of 2018, Joe Torcivia was kind enough to contribute to the writing of this page himself, doubling down on its "specialness" as the #2000 page of the Scrooge McDuck Wiki. (Nonetheless, he does not, lest anyone look for it in vain, have a Wikia account.)