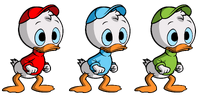 You might be looking for another page with a similar name. If so, visit

José (disambiguation)

or

Carioca (disambiguation)

.
José Carioca is an anthropomorphic parrot.
Description
A poor parrot living in Rio de Janeiro, José Carioca is a moderately talented con artist and music-hall performer. Although he is not always quite the hero, his heart is in the right place. He is also able to perform magic tricks which may be actual (if limited) magic rather than mere parlour magic. José is also good friends with Donald Duck and Panchito Pistoles; together, the three of them form a group known as the Three Caballeros. Like Panchito, José seems unaware of Donald's clumsiness and bad luck and only sees the best in him, sometimes to ridiculous extents.
Behind the scenes
José Carioca first appeared in 1942 in Saludos Amigos in the Aquarela do Brasil segment, the final segment of the World War II-era package film. The segment operated off of the premise of an unknown individual using watercolor to paint his home, Brazil. As he paints, his art comes to life. Among his living art was Donald Duck and, of course, José Carioca. Curiously, the opening credits for Aquarela do Brasil declare his name to be "Joe Carioca", but his business card within the short reads "José Carioca".
José went on to appear in a significant number of Disney comics worldwide, particularly in Brazil. He also appeared in 1944's The Three Caballeros, the sequel to Saludos Amigos. Beyond this, he appeared in many other animated products, with his most prominent roles coming from products related to the original Saludos Amigos and The Three Caballeros films. Two Happy Amigos from 1960, which served as something of a sequel to the original 1940's films, and 2018's Legend of the Three Caballeros, an origin story for the Three Caballeros, both featured José in a major role. These were not, of course, his only appearances in animation throughout the decades, but they were the projects which featured him prominently.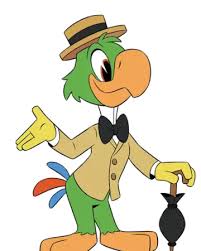 Voice Actors