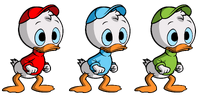 You might be looking for another page with a similar name. If so, visit Mickey's Nightmare.
Mickey's Nightmare is a 1932 theatrical cartoon short. It features Mickey Mouse, Minnie Mouse, and Pluto.
Plot
Mickey Mouse falls asleep and begins to dream about a world where he marries his sweetheart Minnie Mouse. Their marriage leads to a horde of mischievous children whose playful antics quickly become too much for Mickey and his dog, Pluto.
References
Mickey Mouse is shown praying before bed, though it is unknown who he is praying to.
Mickey dreams that storks deliver his children to him. It is unclear if Mickey dreams this way because that is how children are delivered in his world or if the stork deliveries were just a dream weirdness.
Continuity
Mickey's Nightmare is largely a remake of Poor Papa (1928), with both centering around the main character becoming the father to many mischievous, stork-delivered children.
Behind the scenes
Mickey's Nightmare, a theatrical cartoon short, was originally released on August the 13th, 1932.[2] It was directed by Burt Gillett and featured animation by Johnny Cannon, Les Clark, Frenchy de Tremaudan, Norm Ferguson, Harry Reeves, and Hardie Gramatky. Walt Disney voiced the main protagonist of the short, Mickey Mouse.[1]
Mickey's Nightmare shares many similarities with and was based on the earlier Oswald the Lucky Rabbit short, Poor Papa. Mickey's Nightmare was one of several Mickey Mouse cartoons to be remakes of previous Oswald shorts.
Notes and References
List of episodes of Mickey Mouse
Theatrical
1930's
•

Fiddling Around

•

The Barnyard Concert

•

The Cactus Kid

•

The Fire Fighters

•

The Shindig

• The Chain Gang •

The Gorilla Mystery

•

The Picnic

• 

Pioneer Days

•

Minnie's Yoo-Hoo

• The Birthday Party •

Traffic Troubles

•

The Castaway

•

The Moose Hunt

•

The Delivery Boy

•

Mickey Steps Out

•

Blue Rhythm

•

Fishin' Around

•

The Barnyard Broadcast

•

The Beach Party

•

Mickey Cuts Up

•

Mickey's Orphans

•

The Duck Hunt

•

The Grocery Boy

•

The Mad Dog

• Barnyard Olympics • Mickey's Revue •

Musical Farmer

•

Mickey in Arabia

• Mickey's Nightmare •

Trader Mickey

•

The Whoopee Party

•

Touchdown Mickey

•

The Wayward Canary

•

The Klondike Kid

•

Parade of the Award Nominees

•

Mickey's Good Deed

•

Building a Building

• The Mad Doctor •

Mickey's Pal Pluto

•

Mickey's Mellerdrammer

•

Ye Olden Days

•

The Mail Pilot

•

Mickey's Mechanical Man

•

Mickey's Gala Premier

•

Puppy Love

•

The Pet Store

•

The Steeple Chase

•

Giantland

• 

Shanghaied

•

Camping Out

•

Playful Pluto

•

Gulliver Mickey

• 

Mickey's Steam Roller

•

Orphan's Benefit

•

Mickey Plays Papa

•

The Dognapper

•

Two-Gun Mickey

•

Mickey's Man Friday

• The Band Concert •

Mickey's Service Station

•

Mickey's Kangaroo

•

Mickey's Garden

•

Mickey's Fire Brigade

• Pluto's Judgement Day •

On Ice

•

Mickey's Polo Team

•

Orphans' Picnic

•

Mickey's Grand Opera

•

Thru the Mirror

•

Mickey's Rival

•

Moving Day

•

Alpine Climbers

•

Mickey's Circus

•

Mickey's Elephant

•

The Worm Turns

•

Magician Mickey

•

Moose Hunters

•

Mickey's Amateurs

•

Hawaiian Holiday

•

Clock Cleaners

•

Lonesome Ghosts

•

Boat Builders

•

Mickey's Trailer

•

The Whalers

•

Mickey's Parrot

•

Brave Little Tailor

•

Society Dog Show

•

Mickey's Surprise Party

•

The Pointer

•

The Standard Parade

•
1940's
•

Tugboat Mickey

•

Pluto's Dream House

•

Mr Mouse Takes a Trip

•

The Sorcerer's Apprentice

•

The Little Whirlwind

•

A Gentleman's Gentleman

•

Canine Caddy

•

The Nifty Nineties

•

Orphans' Benefit

•

Lend a Paw

•

Mickey's Birthday Party

•

Symphony Hour

•

All Together

• 

Pluto and the Armadillo

•

Squatter's Rights

•

Mickey and the Beanstalk

•

Mickey's Delayed Date

•

Mickey Down Under

•

Mickey and the Seal

•

Pueblo Pluto

•
1950's
•

R'coon Dawg

•

Pluto's Party

•

Pluto's Christmas Tree

•

The Simple Things

•
2010's
•

Get A Horse

•

Steamboat Willie Redux

•
Television
Mickey Mouse Works & House of Mouse
•

Mickey's New Car

•

Around the World in Eighty Days

•

Mickey's Airplane Kit

• Mickey's Mistake • The Candy House •

Mickey's Mechanical Man

•

Mickey's Piano Lesson

•

Mickey's Remedy

•

Mickey Tries To Cook

•

Topsy Turvy Town

•

The Nutcracker

•

Mickey's Rival Returns

•

Mickey and the Seagull

•

Mickey's Mixed Nuts

•

Mickey's Mountain

•

Mickey's Mix-Up

•

Mickey's Christmas Chaos

•

Mickey's Cabin

•

Mickey's Big Break

•

Big House Mickey

•
•

Mickey's April Fools

•

Mickey and the Goat Man

•

Pinball Mickey

•