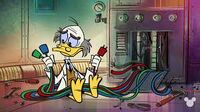 "Oh, dear!"
Due to the recent Wiki Merging, this page has been imported from another wiki, and thus may not be up to the Scrooge McDuck Wiki standards. Your help in fixing it would be appreciated.

"Mrs. Squirrel" is a one-shot character, appearing in the episode Adventures in Squirrelsitting only. She is Tammy's and Bink's beautiful mother.
As she has very little screen time, little is known about her. She does everything to keep her home in a tree tidy, probably not only when she expects some visitors, even if that means keeping her own daughters outside. She can easily panic when something bad happens or even may happen to her daughters. One fan opinion is that she screams and overreacts and is an abusive parent, but another opinion is that such concern should be expected from a good mother, especially with two cute, hyperactive and very pretty daughters like Tammy and Bink.
The brief screen time didn't leave much space for her role, apart from being housewife and mother. She doesn't even have a name in the series—neither a forename nor a surname, so "Mrs. Squirrel" is used as a placeholder throughout the fandom.
Even less is known about Tammy's and Bink's father who is supposed to be her husband; he is simply just not there both times that the Rangers pay their home a visit. This can make her a single mother or even a widow. On the other hand, he may as well be at work for example.
Community content is available under
CC-BY-SA
unless otherwise noted.