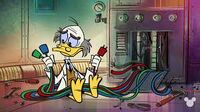 "Oh, dear!"
Due to the recent Wiki Merging, this page has been imported from another wiki, and thus may not be up to the Scrooge McDuck Wiki standards. Your help in fixing it would be appreciated.
No refunds, no returns
Issue Information
Issue
4
Published
Wednesday, August 24, 2011
Written by
Warren Spector
Artists
Jose Massaroli & Magic Eye Studios
Comic Guide
Previous
Next
No refunds, no returns or Rightful Owners Part 4 is the conclusion to the Rightful Owners and the 4th issue of the Ducktales Comic Series published by Kaboom (Studios).
It's the epic conclusion to "Rightful Owners." Scrooge McDuck is on the brink of restoring his collection of returned rarities, but will a crisis of conscience be his ultimate undoing? You won't want to miss the action brought to you by EPIC MICKEY's Warren Spector and MARVEL SUPER HERO SQUAD's Leonel Castellani, and of course the Disney Afternoon Revolution!
Characters
Edit
Villains
Edit
Community content is available under
CC-BY-SA
unless otherwise noted.