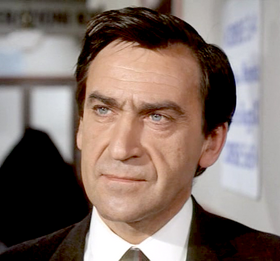 Patrick George Troughton (March the 25th, 1920 - March the 28th, 1987) was a British screen actor.
Classically trained, Patrick Troughton defined himself as a character actor who loved variety and, as he confessed in an interview, "dressing up"; he was ever leery of type-casting. Despite an amazing number and variety of television roles from the 50's to the 80's, Troughton remains best-remembered for the part of the Doctor in the long-running British science-fantasy television series Doctor Who. Several other actors who played the Doctor also ended up taking Disney roles, most famously David Tennant — the 10th Doctor — as Scrooge McDuck in DuckTales 2017. Moreover, the Doctor himself briefly crossed over into the Disney universe on a few occasions, such as the TV special Disney Time 1975.
In 1950, sixteen years before his "big break" as the Second Doctor on the BBC, Patrick Troughton had a minor role in the Disney film version of Treasure Island, portraying the fearsome rogue Roach, one of Long John Silver's pirates who betray him to side with George Merry. Amusingly, about twenty years later, Troughton would play another of Silver's pirates, Israel Hands, in an unrelated, non-Disney miniseries adaptation of Treasure Island.
Community content is available under
CC-BY-SA
unless otherwise noted.