Paul Murry (November 25, 1911-August 4, 1989) was an American cartoonist and comics artist. He was best known for his comic stories involving Mickey Mouse, but he did do other work such as Donald Duck comics and stories with The Big Bad Wolf.
Biography
Edit
Unlike most other artists around his time, Paul Murry did not have a formal education. He started out in the Walt Disney Studios, and began working on comics shortly after. His first Disney comics starred José Carioca. Murry started drawing Mickey Mouse stories shortly after, a character he would later come to love.
Paul Murry is undoubtedly most known for his mystery and crime stories involving Mickey Mouse and Goofy. They usually solve mysteries and come into conflict with villains like Peg-Leg Pete, Scuttle, and The Phantom Blot.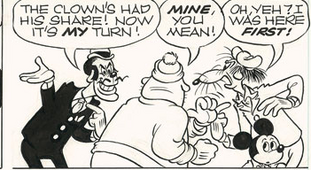 Drawing style
Edit
Murry's drawing style is very recognizable. His characters have small eyes and round heads, and their body shapes, with some exceptions, are either very thin or very fat. He humanized Peg-Leg Pete in many ways.
Co-creators
Edit
Paul Murry rarely, if ever, wrote stories himself. He worked closely with Carl Fallberg and Bill Walsh, illustrating more than 90 stories for both of them. Other writers he worked with are Dick Moore and Don Christensen.
Community content is available under
CC-BY-SA
unless otherwise noted.