Jurassic World: Dominion Dominates Fandom Wikis - The Loop
Play Sound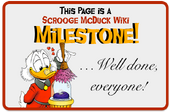 When this page was created
on December the 24th, 2019,
we are proud to say that it was
the $crooge McDuck Wiki's
4500th Page!
Poor Papa is a cartoon short written and directed by Walt Disney. It feature, in their debuts, Oswald Rabbit, Fanny Cottontail and the Bunny Children.
Plot
When Oswald Rabbit's Bunny Wife gives birth to a literal litter, the titular "poor papa" has to deal with scores of toddlers invading his home and causing chaos!
References
Oswald Rabbit's children are delivered by storks.
The exact number of children delivered is unclear. Upwards of 30 bunnies can be seen with their mother in bed shortly after their delivery in one scene. However, many more children are delivered over the course of the short, with the total number of seen children possibly surpassing 100.
Continuity
Oswald's marriage to Fanny Cottontail cannot have lasted long, as other cartoons (presumably taking place earlier on) showed them as merely dating, and rather soon after all this Oswald shows the first signs of romantic interest into his second and better-known girlfriend-turned-wife Ortensia Whiskers. However, the Bunny Children continued to be part of Oswald's household, even if it is worth noting that the comic adaptation of

The Power of Two

(2013) implied — though no more than implied — that the Bunny Children were in fact Ortensia's biological children.
Poor Papa was remade as a Mickey Mouse cartoon, Mickey's Nightmare (1932), which also shows the main character becoming the father to many mischievous, stork-delivered children.
Behind the scenes
Poor Papa was created as the first episode of the theatrical Oswald the Lucky Rabbit cartoon series in the Summer of 1927, but rejected by the producers, asking that Oswald be retooled into a more youthful character. This led to the official first episode of the series, Trolley Trouble. However, in a period of financial troubles for Universal Pictures, a year later, Poor Papa was finally released.