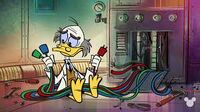 "Oh, dear!"
Due to the recent Wiki Merging, this page has been imported from another wiki, and thus may not be up to the Scrooge McDuck Wiki standards. Your help in fixing it would be appreciated.
The
Ranger Plane
is a vehicle built by
Gadget Hackwrench
as a means of transport for the
Rescue Rangers
.
Description
Edit
The Ranger Plane was built using parts from Geegaw Hackwrench's destroyed plane, the Screaming Eagle, which Gadget crash-landed in Christal Bay due to failing to equip it for an ice landing. Combining these remnants with trash dropped by Aldrin Klordane's henchmen, she constructed a new aircraft.
The Ranger Plane was later replaced with a new aircraft, the Ranger Wing, though the Rangers would still employ it on occasion.
Community content is available under
CC-BY-SA
unless otherwise noted.