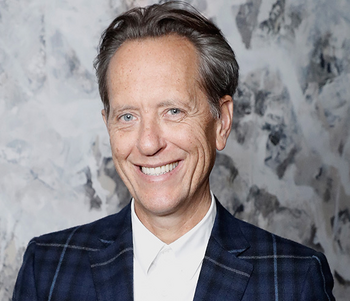 Richard Esterhuysen Grant (b. May the 5th, 1957) is a Swazi-born English actor.
Career
After getting his start in theatre in Cape Town, Grant moved to London in 1982. He has enjoyed a very successful screen career, recently receiving great praise for his role in the 2018 comedy-drama Can You Ever Forgive Me?. After a brief appearance in a parody, Richard E. Grant took on the role of the Doctor in 2003, though he kept it for only four episodes forming a single story arc, and the canonicity of his short-lived "era" was later questioned. (He returned to the program in 2012, not as the Doctor but as his body-snatching nemesis the Great Intelligence.)
In 2018, Richard E. Grant made his proper Disney debut as Shiver, King of the Snow Realm, in the live-action film The Nutcracker and the Four Realms (taking place in the LIAR Universe).