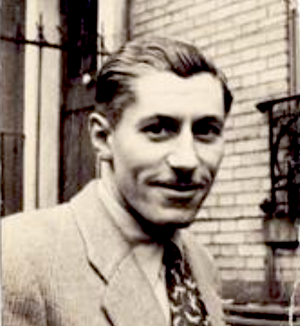 Robert Pierre Velter (1909-1991), better known by his pen name Rob-Vel, was a French comic writer and comic artist.
Career
Rob-Vel started his comic-book career as the assistant of American cartoonist Martin Banner on the Winnie Winkle comic strip. Back in Europe, he created his own characters under the pseudonym of "Bozz", often with writing help from his wife, Blanche Dumoulin.
Between 1938 and 1943, Rob-Vel served as the first and main creator of the Spirou comics in Le Journal de Spirou, though his friends and colleagues Luc Lafnet and Jijé often stepped in for him uncredited (most famously in 1940 and 1941, when Rob-Vel was wounded and eventually taken prisoner by the German army, obviously rendering comic-creation and communication with the publishers impossible).
After the war, Rob-Vel did not return to Spirou, instead returning to his earlier creations such as Subito nad the comic pair Bibor & Tribar. Between 1967 and 1970, Rob-Vel, once again under the pen name "Bozz", also contributed a dozen or so illustrations for Le Journal de Mickey, though they did not contain any Disney characters.
Retired to Saint-Malo at the end of his life, Rob-Vel came to accept his legacy as the original creator of Spirou, returning to the character in occasional illustrations such as Spirou and the Poisson Express, and for the special (albeit non-canonical) anniversary story Spirou 1970.
Index
Rob-Vel stories