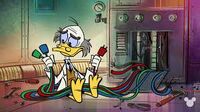 "Oh, dear!"
Due to the recent Wiki Merging, this page has been imported from another wiki, and thus may not be up to the Scrooge McDuck Wiki standards. Your help in fixing it would be appreciated.
Ruby or not Ruby?
Issue Information
Issue
2
Published
Wednesday, June 22, 2011
Written by
Warren Spector
Artists
Jose Massaroli & Magic Eye Studios
Comic Guide
Previous
Next
Ruby or not Ruby? or Rightful Owners Part 2 is the 2nd issue of the Ducktales Comic Series published by Kaboom (Studios).
Summary
Scrooge McDuck's collection of exotic artifacts from around the world are suddenly deported from the McDuck Museum back to their original locations! Wild repossession recall ensues as Scrooge, Launchpad, and the gang jet to the sites of McDuck's most infamous adventures, in a bid to reclaim his whisked-away wealth and take on some restless natives along the way! From the man who brought you Epic Mickey comes an original epic DuckTales series!
Story
Characters
Villains
Gallery
Covers