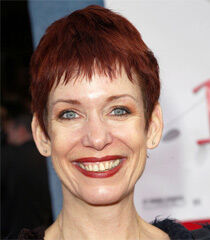 Susanne Ann Blakeslee (b. Januaryt he 27th, 1956) is an American actress.
Career
Born and raised in Los Angeles, California, Susanne Blakeslee has done prolific voicework for animation and video games, as well as a modest amount of musical theatre. Outside of Disney, her most famous voice role is probably Wanda, from the Nickelodeon animated series The Fairly OddParents.
Disney Work
Susanne Blakeslee has voiced a number of Disney animated series characters, including Kala in The Legend of Tarzan, Principal Derceto in American Dragon: Jake Long, and the Narrator of Disney Princess Enchanted Tales: Follow Your Dreams. Most strikingly, however, Susanne Blakeslee has emerged as the modern voice of most Disney villainesses, voicing Grimhilde, Maleficent, Lady Tremaine, Cruella De Vil and Madame Leota in most of their modern outings in Disney media. The outlier among these classic characters she now voices is Flora, the Sleeping Beauty fairy.