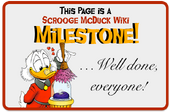 When this page was created
on January the 11th, 2019,
we are proud to say that it was
the $crooge McDuck Wiki's
3500th Page!
The Haunted Mansion is a theme park dark ride and ghost train in Walt Disney World. It features (or has, in the past, featured) the Attic Bats, the Beheaded Knight, the Black Prince, Constance Hatchaway, the Hitchhiking Ghosts, the Ghost Host, Madame Leota, the Hatbox Ghost, the Beating Heart Bride, the Quicksand Men, the Tightrope Girl, Victor Geist, the Werecat Lady, Master Gracey, Miss April-December, the Organ Banshees, the Crowned Ghost (and other members of the Over Four Hundred Club), Granny Ghoul, the Laughing Ghost, the Ballroom Dancers, the Birthday Girl, Great Caesar's Ghost, Roderick Kilroy, the Singing Busts, the Staring Busts Aunt Lucretia and Uncle Lucius, and a number of other ghosts not yet indexed on this Wiki, as well as the tombstones of Captain Bartholomew Gore, Beauregard, Ken and a certain Phineas Pock. A book written by Claude Coats is seen in the Library.
Description
Guests are invited to visit a large haunted house brought over from New Orleans, Louisiana. As they explore the cobweb-covered interiors of the humongous residence, guided by the voice of their ethereal Ghost Host, they discover that it's not just any haunted house, but a "retirement home" for homeless spirits, home to nearly a thousand spooks and goblins! Room after room and portrait after casket, they come across a variety of ghosts who become progressively more visible and end up breaking into a big merry party in the graveyard at the back of the house!
Behind the scenes
Opened in 1971, The Haunted Mansion is one of Disney's most popular original attractions (alongside the slightly earlier Pirates of the Caribbean), and has undergone numerous changes and temporary overlays.