Jurassic World: Dominion Dominates Fandom Wikis - The Loop
Play Sound
The New Groundskeeper is a comic story written and drawn by Darren William Frydendall, featuring the Haunted Mansion's Horace the Caretaker, Hitchhiking Ghosts Ezra, Phineas and Gus, Harriet and Hatbox Ghost, and, in their debuts, the New Groundskeeper and his Uncle Charles.
Plot
The conniving nephew of Horace the Caretaker's boss gets the old man fired from his job as caretaker of Old Gracey Manor, hoping to take over the position and use it as an opportunity to find the legendary treasure. Horace's warning that "they" won't like him do nothing to hinder the New Groundskeeper, who is in for a surprise when the Hitchhiking Ghosts fail to recognize the only mortal with whom they consider themselves "square"!
References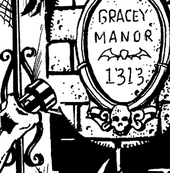 The version of the Haunted Mansion which exists as an abandoned house near

New Orleans

has a plaque equivalent to the Disneyland Mansion's "Haunted Mansion" plaque, which instead reads "Gracey Manor" and gives the address as No. 1313.
The New Groundskeeper possesses a map to the supposed treasure, which marks out a few of the secret passages in the Mansion, such as a hidden door in the Library.
Continuity
Behind the scenes
This story was only ever printed in 2005 in Haunted Mansion #1.
Comics & prose based on The Haunted Mansion
Comics
Unlicensed & Unofficial
Emma Mosier's Haunted Mansion Fancomics
•

The Museum of the Strange and Unusual

•

The Ghost Host Doesn't Like Flash

•

Hattie and Connie's First Meeting

•

Packing

• 

Hatty and Emily Reunion

•
Other
• Coff-In! •

Seekers of the Weird

•

Disney Kingdoms' Haunted Mansion

•

Cookie Creeps

•
Prose
Short Story Collections & Book Series
Enter If You Dare!
•

The Fortune-Teller

•

The Face in the Mirror

•

Music To Their Ears

•

The Eyes Have It

•

Late For The Wedding

•
Tales from the Haunted Mansion
•

The Fearsome Foursome

•

Midnight at Madame Leota's

•

Grim Grinning Ghosts

•

Memento Mori

•