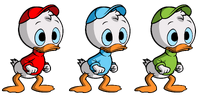 You might be looking for another page with a similar name. If so, visit Tokyolk.
Tokyo is a city in Japan.
Description
Tokyo was one of the several places Scrooge McDuck wanted to visit after regaining his youthful energy.[1]
Behind the scenes
Tokyo is a city from the real world and the capital of Japan. It is also the largest city in the world, with a population well over twenty million.
Japanese actor Tokio Seki is from the Tokyo Area in real life.
Notes and references