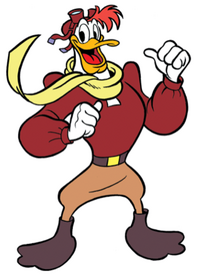 About me
Edit
I am the founder of this wiki, so if you need help or have a question or suggestion, just ask me! I am a teenage girl living in the USA. I have read all the books by Carl Barks and Don Rosa that I can find at my library, and I think that any stories not by them are kinda not really canon. I am also watching Duck Tales.
One of my dreams (I have several XD) is to draw Duck stories for Disney. If you know anything about how I could do that, please let me know! ;)
If you would like to be my friend, just sign below! :)
My fanfics
Edit
I am working on a story that will introduce my character, Heather, but I'm not sure what to call it yet. XP
My Character
Edit
Go here to read about my own character that I am planning to put in some stories.
I don't have much on here yet, but click here to see my art gallery.
Community content is available under
CC-BY-SA
unless otherwise noted.