Jurassic World: Dominion Dominates Fandom Wikis - The Loop
Play Sound
While the Fifi is Away… is a comic story written and drawn by Roman Dirge, featuring the Haunted Mansion's Fifi, Ghost Cat and Ghost Birdies, Rodeo Monkey, Freddie the Bat, and Beating Heart Bride. The Bride mentions her lost groom, likely intended to have been Master Gracey by the author.
Plot
Fifi the Ghost Poodle keeps bothering the other ghostly inhabitants of Gracey Mansion's Pet Cemetery with her belief that she was the Beating Heart Bride's pet in life and must return to her in the Attic — not that the Bride has any idea why that "weird rat dog" keeps staring at it. The Ghost Cat discovering that he has one of his nine lives left precipitates events.
References
The Ghost Cat describes himself as having died 150 years ago. He also claims that "outside ghosts" and "inside ghosts" of the Haunted Mansion can never meet.
Continuity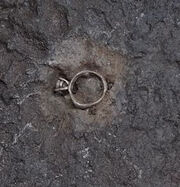 This story marks a turning point in the Beating Heart Bride's unlife as she decides to stop pining away for her lost groom, throwing her wedding band out the window of the Attic. This kills the resurrected Fifi for a second time, but also ties into the presence of a "ring" embedded in the pavement of Walt Disney World's The Haunted Mansion's queue; originally a fan legend around what was actually a cutoff pipe, the ring was readded as an official show element in the Spring of 2011 alongside the creation of the new themed queue.
The Ghost Gallery posited a different origin for the ring in the pavement, reckoned to be the groom's engagement ring, which he tried to symbolically put on once again during his Bride's funeral, only for it to be knocked off his finger and then have a wheel of her hearse rolling over it, burying it in the cobblestone pavement forever.
Behind the scenes
This story was only ever printed in 2005 in Haunted Mansion #1.
Comics & prose based on The Haunted Mansion
Comics
Unlicensed & Unofficial
Emma Mosier's Haunted Mansion Fancomics
•

The Museum of the Strange and Unusual

•

The Ghost Host Doesn't Like Flash

•

Hattie and Connie's First Meeting

•

Packing

• 

Hatty and Emily Reunion

•
Other
• Coff-In! •

Seekers of the Weird

•

Disney Kingdoms' Haunted Mansion

•

Cookie Creeps

•
Prose
Short Story Collections & Book Series
Enter If You Dare!
•

The Fortune-Teller

•

The Face in the Mirror

•

Music To Their Ears

•

The Eyes Have It

•

Late For The Wedding

•
Tales from the Haunted Mansion
•

The Fearsome Foursome

•

Midnight at Madame Leota's

•

Grim Grinning Ghosts

•

Memento Mori

•