Witch Hazel, also known as Wanda Witch, is a human woman.
Description
With Hazel is a short, crooked-nosed old witch, most often seen wearing traditional witch clothes and riding her sentient magic broom Beelzebub. Hazel likes to scare people on Halloween with the army of chimeras she created and who serve as her familiars, but she is not actually evil, only mischievous; this has actually often landed her in trouble with other witches. She has joined forces with other, actually evil witches and sorceresses, such as Magica de Spell and Madam Mim, but she will not hesistate to protect those that are her friends, such as Huey, Dewey, and Louie, from their evil plans.
Behind the scenes
Witch Hazel first appeared in 1952 in the short Trick or Treat.
Notably, Witch Hazel was "borrowed" out of copyright by Chuck Jones for the Looney Tunes series, albeit with a different design. The Looney Tunes Witch Hazel, who, unlike the Disney Hazel, becaming a recurring character on-screen as well as in the comics, was larger, black-haired and green-skinned, but retained a similar personality and speech patterns to the 1952 version. Though debuting in 1954's Broomstick Bunny voiced by Bea Benaderet, the reimagined Warner Brothers Hazel was once again voiced by June Foray for most of her subsequent appearances, between 1956 and 2004. She was subsequently voiced by Tress MacNeille in the early 1990's and later still by Roz Ryan (also voice of Disney's Thalia).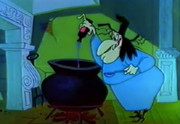 Foray, however, took pains to differentiate the two Hazels somewhat, giving the 1954 Hazel an American accent rather than the 1952 Disney version's pseudo-Shakespearean patter. By and by, the two Hazels had a divergent evolution, being solidified over the decades as two different characters in two different worlds. However, the Looney Tunes Hazel would eventually serve as an obvious inspiration for the DuckTales 2017 reimagining of Disney's Hazel: as depicted in 2020 in The Trickening, the 2017 Continuum's Witch Hazel bore a greater resemblance to Chuck Jones's Hazel, with green skin and dark hair, than to the diminutive and sandy-haired Disney treatment — and even having the American accent marked out by Foray herself as a signature trait of the Looney Tunes version.
The Looney Tunes Witch Hazel additionally made a cameo as a Toon actress in the Who Framed Roger Rabbit deleted scene The Pig Head. It might be argued that within the Prime Universe, the Warner Bros. Witch Hazel exists as a Toon loosely based on the real, 1952 Hazel, in a similar way to the relationship presumed to exist between the "real" Donald Duck and his piano-playing Toontown counterpart.
Voice Actresses